Design a Postcard
Setting the scene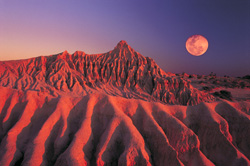 Tourism is a very important part of the economy in each State and Territory.  One way that we can get people to travel to Australia is through postcards.  If a person in Europe, America, Asia or Africa sees a postcard with a nice picture of Australia on it, they just might want to travel to Australia too!
For this exercise, you are to pretend that you have been employed to design a postcard.  The postcard should attract the attention of tourists visiting your State or Territory, as well as people overseas who will be receiving it.  The postcard should depict one of the State or Territory's geographical landmarks.  You should provide clues to the landmark's identity on the back of the postcard, but you should not reveal the name of the landmark .
Steps you need to take
Using the National Gazetteer of Australia , select a place to depict in your postcard.
On one side of a card draw an image representative of the place.
On the other side, write a message that provides readers with several clues about the place.  Remember, do not write the name of the place (but you can secretly tell you teacher).