Cadastre 2034: Powering Land and Real Property
Cadastre 2034: Powering Land and Real Property is a national strategy for Cadastral Reform and Innovation for Australia. It has been prepared by the Permanent Committee on Cadastre; a Subcommittee of ICSM.
The strategy captures the trends and articulates the vision of what we believe the community will require of our cadastral system by 2034. It identifies where current information falls short of today's consumer expectations, and considers the user scenarios that could trigger changing needs in the future. Cadastre 2034 has been developed with input from a New Zealand perspective and Trans–Tasman collaboration remains an important feature of this strategy.
The vision for Cadastre 2034 is for a cadastral system that enables people to readily and confidently identify the location and extent of all rights, restrictions and responsibilities related to land and real property.
In future, citizens will know what can be done on land (rights), what cannot be done (restrictions) and what must be done (responsibilities).
Our mission is to promote and support innovation and provide the leadership, coordination and standards necessary to deliver a unified cadastral system that can be leveraged to find sustainable solutions to meet emerging needs and opportunities.
Available documentation in pdf format: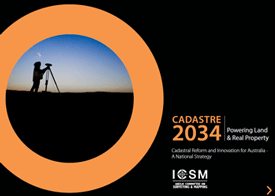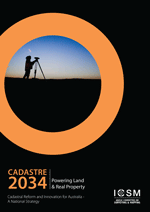 ICSM established a Permanent Committee on Cadastral Reform (PCCR) in 1999.  This was created to provide leadership in advising ICSM on cadastral reform matters, raise awareness of the cadastre and the benefits of cadastral reform to industry and the community.  Its role is to develop a coordinated approach to cadastral reform that incorporates the participation of all stakeholders, including other peak government and industry groups.
In 2004 ICSM became a Standing Committee of ANZLIC - the Spatial Information Council.  In 2005 as part of its strategic review and planning process, ANZLIC disbanded its Spatial Data Infrastructure Standing Committee (SDI SC) and divested much of its responsibilities to ICSM - in particular to the PCC.
Terms of Reference
Recommend leadership initiatives to ICSM relevant to future cadastral reform;
Advise on initiatives to raise the awareness of industry and the community of the benefits of the cadastre and cadastral reform initiatives;
To develop preferred models for the coordination of cadastral reform that incorporate the participation of all stakeholders, including other peak government and industry groups;
Identify and develop 'best practice' standards and guidelines for cadastral activities that are relevant to ICSM.
Comparison of Cadastral Systems
In 2009 and 2010 New Zealand and each Australian State and Territory completed two separate and comprehensive spreadsheets of questions related to the administration of their cadastral systems. The results of these surveys have been compiled into a single document titled "Australian and New Zealand Cadastral Systems - Questions and Answers" as a PDF document or the Word version.